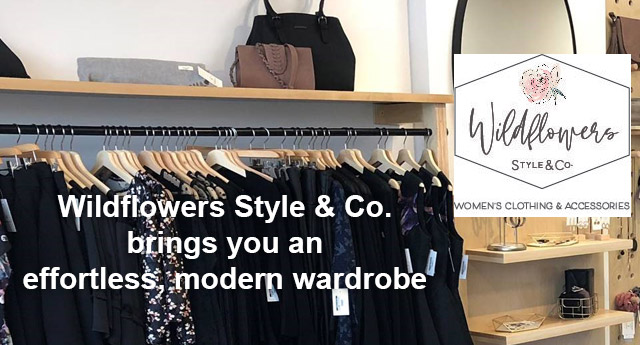 We were so excited when we found out that Wildflowers Style & Co. clothing boutique was going to be opening at Willoughby Town Centre that we couldn't wait to talk to Amy about why she chose to come to Langley and what her new boutique has to offer.
Amy grew up in Langley and really liked the philosophy of Willoughby Town Centre's: Live, work, and play. This concept helped direct her branding idea of a clothing boutique for women that carried styles that would fit seamlessly into a busy lifestyle.
Wildflowers Style & Co. is Amy's first clothing boutique, not only has she worked in retail for over 18 years, she also has a graphic and interior design background.  This lifelong dream came to fruition in in March of this year, when a local retail contest peaked her interest in opening a clothing boutique in Langley.
Amy is thrilled to bring you clothing and accessory lines from Canada, the US, the UK, and Australia, that are unique to the area, and yet complement what is already out there. Amy is also sourcing more local lines and makers, including a local brand called Jax & Lennon, designed and made in the Valley.
Wildflowers Style & Co. wants to bring you an effortless modern wardrobe. They have hand-picked those essential wardrobe pieces, your go to's, and can't live with outs. Filling your closet with quality, key pieces that will grow with your own personal style and carry you from season to season.
Check out the Grand Opening festivities on November 17 & 18. Watch for details on their Facebook page.