We are pleased to announce that The Mad Italian Pizza Company has reopened with new owners and management!
The new owners and management at The Mad Italian Pizza Company are thrilled to share their new menu and branding with the community. They started by creating and sourcing the most authentic and delicious natural dough available which produces a crust so delicious and genuine you'll have to remind yourself you're in Willoughby. They continue by sourcing the best ingredients available, including Fior de Latte Mozzarella, Romano, and Parmigiano-Reggiano direct from Italy, to grilled chicken, pepperoni, and hams raised right here in the Fraser Valley.
Jonathan and Lauren, have also added 10 select and curated pizzas while retaining the classic "Build Your Own" option as a homage to The Mad Italian Pizza Company's roots.
An essential part of their re-branding includes local craft beer options from three great Langley breweries in Trading Post, Camp Beer Co, and Farm Country and well as select wines from Chaberton Estate Winery, also in Langley, B.C.
In the coming months they'll be carefully and modestly expanding their menu, while also launching mobile & telephone ordering, delivery, daily specials, social media giveaways, and more!
About the owners:
Jonathan and Lauren were both born and raised in Langley, British Columbia and have lived in the great community of Willoughby for the last six years. They've been blessed with two children since moving to Willoughby.
They purchased the Mad Italian Pizza Company because more than anything, they love pizza and with their young family they have thoroughly enjoyed visiting local craft breweries and wineries. Living so close by and making nearly a trip a day into the Willoughby Town Centre made them well aware of the potential and fun they could have right in the heart of the growing community they love. The pandemic in some strange way gave them the opportunity to purchase the restaurant and make it their own. It's this opportunity that they're so excited to share with their friends and neighbours.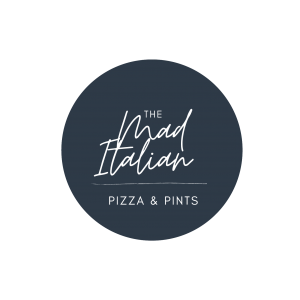 Watch for details on the Grand Opening Week, happening October 4 – 10, that Jonathan, Lauren and the team at The Mad Italian have in store for you!!
Visit their Instagram account or Facebook Page for details.