Fraser Valley FC, a franchise in the EA Sports BC Premier League is comprised of member soccer clubs from Langley FC, Aldergrove Youth Soccer, Chilliwack FC and Magnuson Ford Mariners FC and with a collection of girls representing Langley, Surrey, Abbotsford and Chilliwack communities.
On June 28th, 2014 the Fraser Valley FC U-14 Girls won the BC Premier Provincial Soccer Championships and earned the right to represent British Columbia at the National Soccer Club Championships in Charlottetown PEI, Oct 8th to 13th.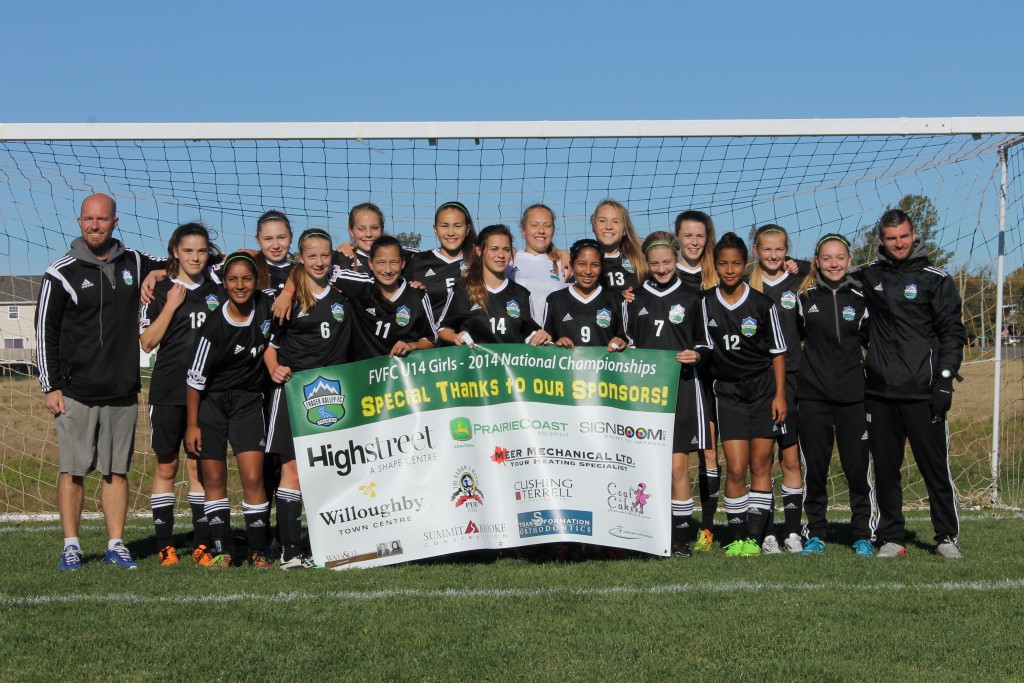 We are so proud to be a sponsor of the Fraser Valley FC U-14 Girls soccer team!
On behalf of all the Players and Coaches, this comment was shared with us:
"With the generous contributions of our sponsors, including Willoughby Town Centre, the Fraser Valley FC team have returned from this incredible life experience and represented the Province proudly finishing 5th overall with a record of 3 wins, 1 tie and 1 loss, (the 2nd best record of all the teams).
As part of the generous sponsorship from groups like Qualico & Chow and their Willoughby Town Centre, Fraser Valley FC has prepared a banner to bring and display proudly at all their home games for the remainder of this year and into next year."
Way to go girls!!