We are pleased to announce that Code Ninjas will be opening at  Willoughby Town Centre on July 4.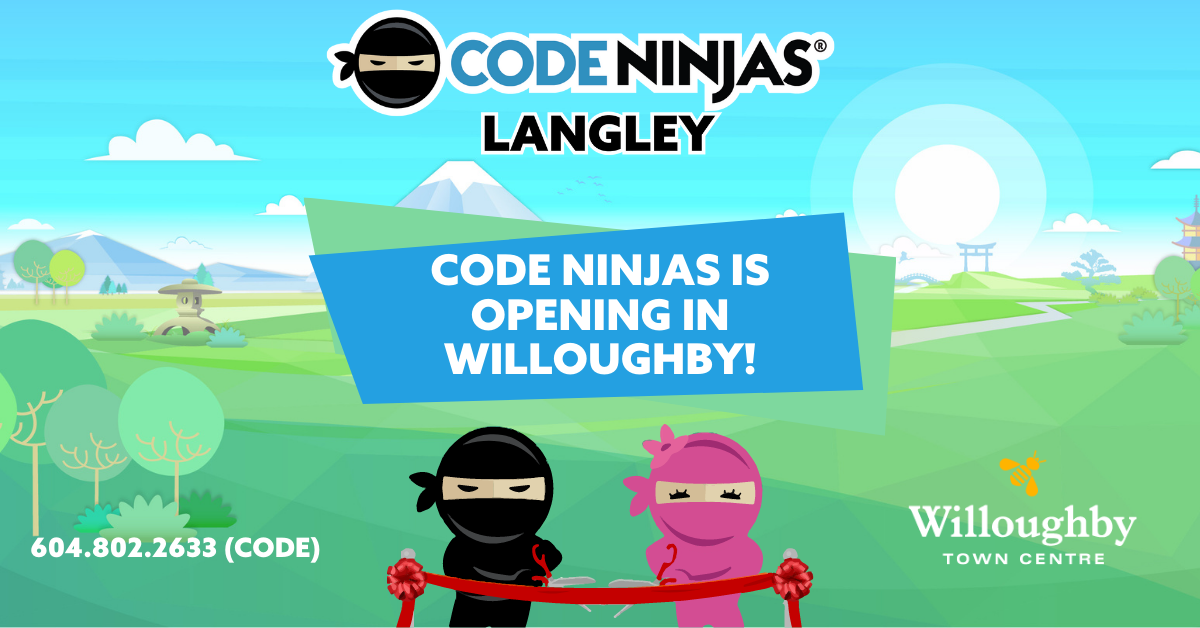 We talked to the owners and asked them to share more about what Code Ninjas offer, why they decided to open in Langley, and a little about the owners and their backgrounds.
What does Code Ninjas offer?
Code Ninjas is a coding school with programs designed to teach children how to code! We recognize that kids have a natural affinity for technology, so we've created a fun, safe environment where kids learn to code by creating the video games they love to play. At Code Ninjas, students improve their critical thinking, resourcefulness, and logic through programming in JavaScript, Lua, and C#, which are currently lacking in our local schools' core curriculum.
Why are you excited to be opening Code Ninjas in Langley?
We are extremely excited to be opening Code Ninjas in Langley! We understand that Langley has had a storied past and has played a historic role in the early development of the lower mainland. We have a passion for education and understand that we are now in the "Information Age" – with such demand for education related to STEM, we want to teach something that is currently not widely offered. Put simply, all the apps and technology behind cell phones and computers were made by someone with prior software education. Tesla is not a car manufacturer, but rather a tech company that makes cars. Our goal is to educate the young minds that will shape the future landscape of the tech industry.
Why did you choose Willoughby Town Centre as a location?
We chose Willoughby Town Centre as a location because it's becoming an increasingly lively community with shops, restaurants, and services opening up in the area. Willoughby's easy access to Highway 1, Fraser Highway, Golden Ears Way, and even the Surrey-Langley skytrain being built make the location easily accessible! The Willoughby community is wonderful, and we're extremely excited to connect with the new businesses opening up, families moving in, and schools around the Willoughby area.
Meet the Team at Code Ninjas
Hamid Moghaddam – Currently own Code Ninjas location in North Vancouver, Hamid holds a Master of Science in Telecommunication from England, as well as a bachelor's degree in Electronic Engineering. He is a veteran of many years in the service industry with a wide scope of experience from front-line worker to management, marketing, financial planning including remedial business plans for businesses in difficulty. Hamid's varied experience, knowledge and commitment to every endeavor place him as a target for businesses who want to improve their bottom line in a timely and efficient manner. His confidence in his knowledge and experience plus his track record support the stand that all types of business', including Code Ninjas are well within his scope to build success.
Brandon Bright – Currently studies Artificial Intelligence at Simon Fraser University, worked as the Head Sensei at the North Vancouver location. He has always had a passion for teaching kids and learning how to program.
Suhayl Patel (Su)  – Suhayl is currently a student at the University of British Columbia working towards his dual degree in Computer Science and Physics. Having an interest in both Computer Science and teaching have inspired him to take part in the Code Ninjas Langley location. He is looking forward to meeting all the Langley parents and students in the centre!
Learn more at https://www.codeninjas.com/langley-bc-ca and save on early enrollment.