Fall is in the air!
The changing colours of the leaves and crisp weather make us realize that our beautiful summer is now over. But for many, the coziness of Fall is the best time of year.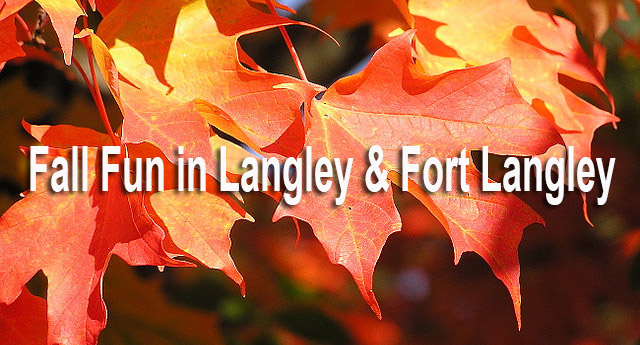 So grab a jacket and take part in some  of the many of great activities in Langley and Fort Langley.
Fort-to-Fort Trail
Take a stroll through Fort Langley and take in the picturesque sights of colourful fall leaves reflecting off the sparking Fraser River. Afterwards, enjoy a warm latte, baked treat and a good read at Wendel's Bookstore and Cafe.
Cranberry Festival
Come celebrate the cranberry harvest at the 20th Annual Cranberry Festival in Fort Langley on Saturday, October 10, 2015. Check out unique local vendors, free live entertainment, pancake breakfast, and enjoy some family fun! Don't miss out on what is always a great day in the centre of Fort Langley.
Pumpkin Patch
Visit Aldor Acres and experience the farm during its popular Harvest Festival.  Take a stroll past the ice cream shop and visit with the cows, calves, and kittens that live in the dairy barn. You may even get the chance to milk a cow!
Community Markets
Don't miss out on the last day of the Walnut Grove Community Market on October 12, 2015 from 4pm-8pm. Check out some local artisans and live entertainment, enjoy food and wine tastings, and make sure to pick up some fresh local produce before you leave.
Also, don't miss out on the last Langley Community Farmers Market of the season on October 14, 2015. Drop by for a fun fall celebration with pumpkin carving, an end of season book sale, a canning demo, free face painting for kids, pumpkin-apple soup sampling at the Market Kitchen, and THE LARGEST SURPRISE you could imagine at 4:30 pm! Activities start at 2pm and end at 5pm!
The Fort Langley Village Farmer's Market is open every Saturday until October 31, 2015.  Stock up on freshly-picked field greens and vegetables, check out local artisans, and some yummy treats.
Halloween
The popular Grave Tales historic walking tours are back! Spine-chilling stories are told by night by expert storytellers as you walk through the Fort Langley village. Tours run from October 15 – 31, 2015. Get your tickets in advance! Age 18+ only. Check website for dates and times.
On October 31, 2015 come on down to the Halloween Hoot at the Fort, a fun-filled event geared toward young families. Trick-r-treat at the Fort Langley Historic Site and discover spooktacular surprises along the way! Put on your costume, get your face painted and spark some creativity.