They say April showers bring May flowers and we definitely had our fair share of showers this spring! And it appears to be true as the cherry blossoms are flowering  and the tulips are in bloom.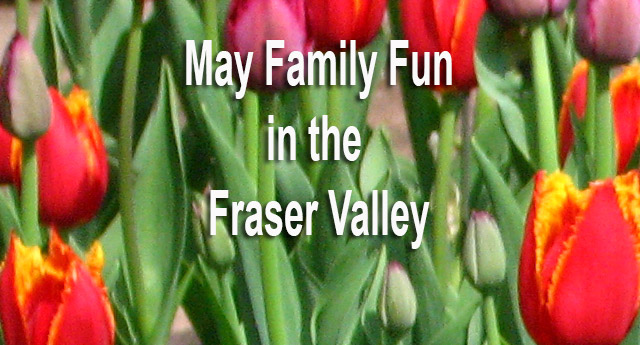 Here is a list of family friendly events happening in the Fraser Valley and more specifically Langley.
Abbotsford Bloom Tulip Festival (running until May 7)
They say that the colder weather has resulted in more vibrant blooms.  There is still time to check out this beautiful display but keep in mind it is selling out on beautiful days!
Canadian Festival of Chili and BBQ  (May 6 -7) – Cascades Casino
Over $15,000 is up for grabs in what is expected to be the largest Chili and BBQ Contest in Langley. Samples will be available for the public to try and there will be lots of fun at this festival.
Royal Canadian Family Circus (May 5 – 7) – Cloverdale Fairgrounds
The all new thrill show will amaze audiences with this time honoured family circus.  Are you ready to run away to the circus?
55th Annual Langley Walk (May 7) – Willoughby Community Centre & Park (LEC)
This annual event has 5km and 10km routes that you can walk, run or bike, and lots of fun for the whole family, including a bouncy castle, obstacle course, face painting and so much more.
Fort Langley Beer and Food Festival (May 20) – Fort Langley National Historic site.
The Trading Post Brewing Company has invited local breweries to join them in serving up delicious CRAFT BEER at a brand new beer festival for the Fraser Valley.
The Langley Community Farmers Market (Opens May 10) – KPU
Langley's premier farmers market opens for the season on May 10 from 12 – 4:30pm. We are looking forward to all the fresh veggies, yummy pastries and all the other treats the vendors will be selling.
May Day Parade – Victoria Day (May 22) – (Fort Langley)
The 95th Annual Fort Langley May Day Parade takes place at 11am and will start on Mavis, going towards Glover, up Glover to 88th and returning along Trattle.  May pole dancing, rides for kids and vendors will be part of the festivities.